Various ideas for DIY Industrial Pipe
Here we introduce you some ideas for Home Decor.
GEILSPACE Industrial Pipe give you more possibility for your home.
Incorporate the industrial aesthetic into any home, garage, workshop or office. A perfect blend of convenience and fashion. The chic charm of industrial inspired decor adds eye-catching style to your home and is sure to spark some interesting conversation. Your family, friends, and guests will love the modern DIY look!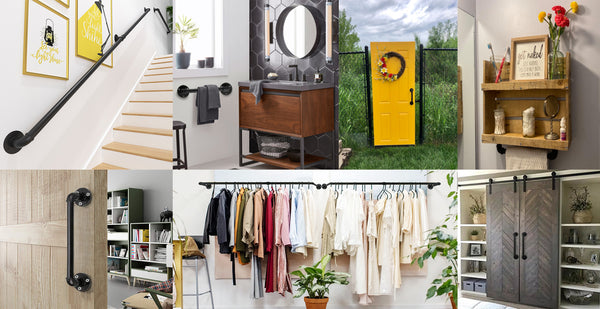 Easy to install
Safe and Exquisite, make your life easier
Provide you with an easy installation experience
Easily coordinates with the style of your home
Fix to the wall with screws and screw holder, you can DIY something as you like to suit your decor. Package includes the proper mounting hardware with 8 screws, it will be sufficient for you to completing the assembling.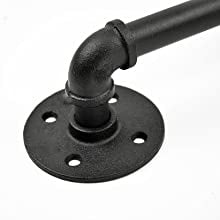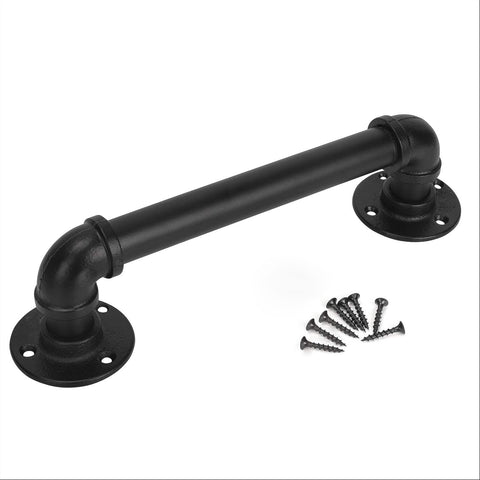 What we need:
Long Pipe × 1 (Optional Size: 10"/14"/16"/18"/30")
Short Pipe × 2 (Optional Size: 3"/4"/5"/6"/8")
Flange × 2 (Optional Size: 1/2",3/4",1")
Elbow × 2 (Optional Size: 1/2",3/4",1")
Screw × 8
Expansion tube × 8
All of the above products can be found in this link: 
https://geilspace.com/collections/all.
Round Flange:
Strong Flange with drilled holes  
Sturdy and solid
High Temperature Craft:
Finished in matte black through powder coating process under high Temperature, this solid and heavy duty handle set can resist to rust, corrosion and deformation for years.
Beautiful look:
The design of this handle is industrial yet modern and enhances your room with an extraordinary look. 
Application
DIY Industrial Pipes are used for doors, gates, garages, sheds, closets, sliding doors , also can be used as Toilet grab bars, Cabinet Pulls, Shed Door, Window Balustrades, Bathroom Rail, Towel Racks, Curtain Parapets and more. Providing extra security as in the bathroom, window and stairs for the people who need extra support.
Use it as the barn towel racks, door handles, stair handrails or coat racks......
Great durability indoors and outdoors.GEILSPACE meticulously hand-crafted for your living space.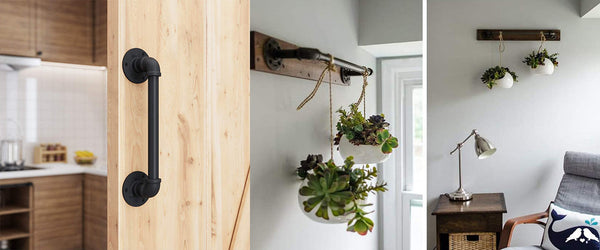 Towel Racks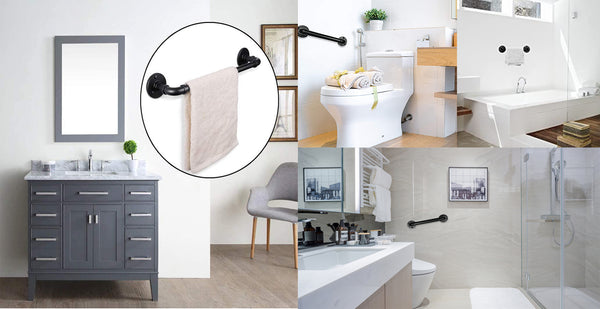 Can be installed in the bathroom as a hanging rod
Can used for hanging clothes and towels in the bathroom
Providing extra security as in the bathroom, window and stairs for the people who need extra support
Get your constantly messy bathroom better organized with our bathroom towel bar
Door Handles
Are you looking for a perfect retro and unique iron sliding barn door handle set? Incorporate industrial aesthetics into any house, garage, workshop or office.
You have found it!--Our DIY industrial pipe for door handle.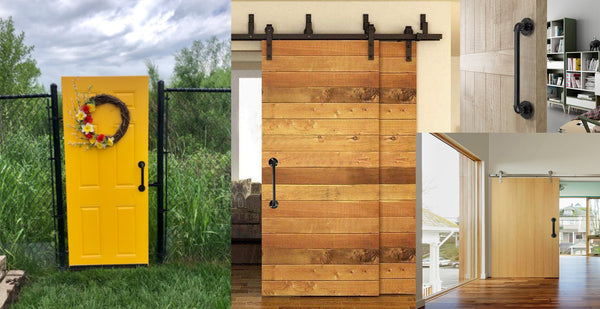 Suitable for a lot of door types.
Match most of home decoration and multiple use for many kind of doors
Strong and Durable
Simple design makes it can suit with most of internal and external doors.
Can be installedin garage/barn/sheds/closets or sliding doors
It is a wonderful decoration in a industrial style house.
Stair handrail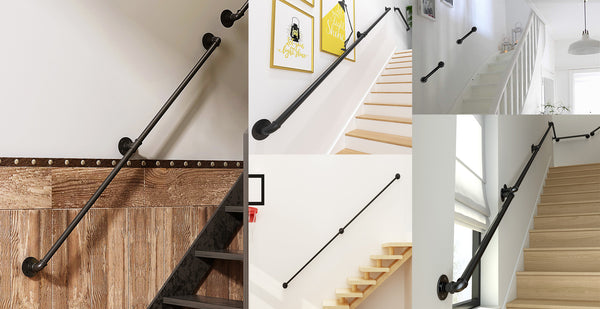 Antique Cast Iron Handrail
Ergonomic handrail
Can be installed on the side of the stairs as a stair railing
Suitable for DIY installation, affordable Decking Railings
Provide safer protection for your family in the interior staircase
Safe and Exquisite.Easily coordinates with the style of your home
Can be installed on the side of the stairs as a stair railing
As a horizontal, inclined or vertical balustrade
Perfect for stairs and lofts attic railing armrest, bathroom handrail and door handle, indoors and outdoor fence
Our handrail combining elegance, versatility, easy installation and safe. The handrails are well supported on the stairs. Grab and up or down, it is an indispensable help for children, elderly and people who have difficulty climbing stairs. 
Clothes Rack/Coat Hanger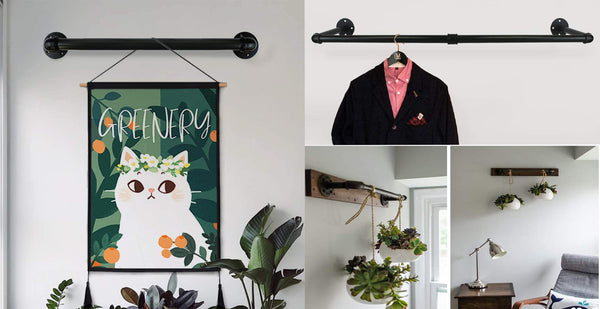 Wall mounted clothes rack create an extra space to organize and display your everyday clothes or seasonal outfits.And you can even hang anything else you can think of. It can be used in bathroom, kitchen, balcony, pantry and also the cabinet, add extra hanging space, it can save space and cut clutter in any room in your home.
Put it in the laundry room to dry wet clothes, fix it in the bedroom wall to hang tomorrow's outfits, or place it in your retail shop to display clothes—wherever you use it, it will always come into full play.
This clothes rack is crafted from metal pipes, complete with cool industrial looking, easy to match with variety of looks from sleek and modern, to farmhouse rustic or industrial vintage.
In short, you can have unlimited imagination on the DIY industrial pipe.
GEILSPACE always strives to bring you the most trending and distinctive pieces of decorative hardware.

If you don't have a better choice, you might as well try our products.
All of the above products can be found in this link: